As part of Air Academy High School's 60th Anniversary, we honored at Homecoming distinguished alumni, faculty, and staff representing Air Academy's 60-year history. A tradition was born, and now every year we recognize Distinguished Kadets who represent the Kadet Spirit.
Here are the 60th Anniversary Honorees for Alumni
Ed Epler lived in Black Forest from 1953 to 1959. Before the opening of Academy School District 20, Ed attended high school in Monument. When Air Academy High School opened its doors in September 1957, Ed became a member of the first graduating class of 1958. Classes were held in the Carlton Mansion (Ed recalled that is was a country club at one time before it became the living quarters for the superintendent of the Air Force Academy). During his senior year at Air Academy High School, he participated in football and basketball. One of his memories of his senior year, Ed and three other students ditched school one day. Ed was the only one caught. His parents made him deal with Principal Howard Dunning, who Ed said, was a wonderful individual. After graduation, Ed went to work in a service station but was soon drafted by the military. He joined the Navy, serving in the Viet Nam War. He was honorably discharged in 1966. Returning to Colorado Springs, Ed worked for Deep Steam Carpet Cleaning. While working two jobs and supporting his family, he earned his BA from UCCS in Political Science. He was hired by the City of Colorado Springs and served as a supervisor for 34 1/2 years, retiring in 2004. He has numerous grandkids and great grandkids and is proud of all of them, especially the ones serving in the military. He and his wife enjoy retirement and still live in the Colorado Springs area.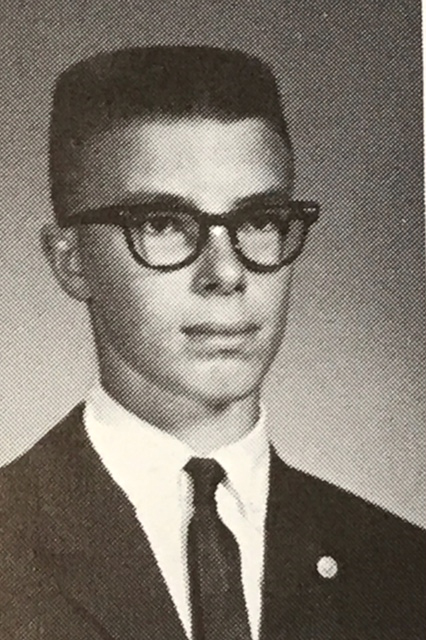 Elected Class President multiple years at AAHS, Mr. Dell enlisted in the Army following graduation and served in the Viet Nam War working to become one of the youngest helicopter crew chiefs in the Army. He was killed in action in 1968 and lies in rest at Arlington National Cemetary.
Writer and conservationist, Barron graduated from AAHS in 1970. He was named a Rhodes Scholar after graduating from Princeton and went into business after extensive traveling. In 1990 he left a successful career in business to pursue his earlier dream of becoming a writer. Now the author of more than thirty highly acclaimed books, many of which are international bestsellers, he has been the recipient of many awards including the de Grummond Medallion for "lifetime contribution to the field of children's and young adult literature" in 2011 and the Nautilus Award Grand Prize in the Children's Fiction and Nonfiction category in 2010. His works include the Merlin Saga (now being developed into a feature film by Disney). The Great Tree of Avalon (a New York Times bestselling series), The Ancient One (the tale of a brave girl and a magical tree), and The Hero's Trail (nonfiction stories of courageous kids).
In 2000, Barron founded the Gloria Barron Prize for Young Heroes, a national award that each year honors twenty-five highly diverse, public-spirited kids who have helped their communities or the environment. He has also produced a documentary film, Dream Big, profiling seven winners of the Barron Prize.
When not writing or speaking, Barron serves on many boards including Princeton University, where he helped create the Princeton Environmental Institute and The Wilderness Society, which honored him in 1997 with its highest award for conservation work, the Robert Marshall Award.
Two-year letterman in both football and basketball at AAHS, co-captain of both teams as a senior. Honorable Mention Denver Post All-State football team as a junior. Also a member of the infamous powder puff cheerleader squad, homecoming 1982.
Graduate of the University of Missouri School of Journalism. Chosen as the outstanding news-editorial student in the graduating class of '87.
Worked 17 years at the Louisville Courier-Journal -- two years covering high schools, one-year covering regional colleges, two years covering the University of Kentucky and 12 years as a general sports columnist. Was nominated for the Pulitzer Prize in 1991 for an investigative series on academic failings in the University of Louisville athletic department. Twice had stories published in the Best American Sports Writing anthologies.
Went to work for ESPN in 2004, primarily covering college sports. Did work across all ESPN platforms -- TV, radio, online -- including regular appearances on "College GameDay" and "First Take."
Went to work at Yahoo Sports in 2011 and remain working there today, primarily covering college sports plus the Olympics, horse racing and golf. Official title is National College Columnist. Also a college football analyst on the Big Ten Network and Fox Sports Radio.
Has written two books: "Rebound Rules," with Louisville basketball coach Rick Pitino; and "The Contract," with NBA guard Jimmer Fredette.
Lives in Louisville, KY., with wife, Tricia. They have three children: Mitchell, a Missouri grad and former swimmer at Mizzou; Clayton, a student and swimmer at Georgia; and Brooke, a student, and swimmer at Stanford.
John Novembre is a Professor at the University of Chicago in the Department of Human Genetics and Department of Ecology and Evolution. His research focuses on developing statistical methods to answer questions regarding genetic diversity, with an emphasis on understanding human ancestry and historical demography. Most recently his group is focused on geographic analyses of genetic variation, information stored in how variants are associated in haplotypes, and the abundance and distribution of rare variants. Dr. Novembre earned his Ph.D. in 2006 under Dr. Montgomery Slatkin at the University of California-Berkeley, before taking an NSF Bioinformatics Fellowship at the University of Chicago under Dr. Matthew Stephens. He was at UCLA as faculty from 2008-2013 before returning to the University of Chicago as faculty. He serves as an associate editor for the journals
Genetics
and the journal
Molecular Biology and Evolution
. He has been awarded as a MacArthur Fellow, Searle Scholar, and Sloan Research Fellow, and his research is funded by the National Science Foundation and National Institutes of Health. When not working, John enjoys travel and outdoor sports such as biking, backcountry skiing, surfing, and hiking.
His research interests grew out of his time at Air Academy High School where he enjoyed computer programming as a hobby and thinking about evolution as one of the world's most fascinating natural processes.
During her time at AAHS Erica Linz served as captain of the gymnastics team and was heavily involved in performing arts including acapella, theater and Montage. Though very active, she did not always feel like she fit in as a Kadet and was even voted "Most Unique" in the class of 2001. Six months after graduating, Erica joined Cirque du Soleil's legendary Las Vegas show, "Mystère" as an acrobat and actor. In 2005 she moved to Cirque's mega-production "KÁ" and gained notoriety as a featured aerial performer. During this time, Erica's life was touched by pediatric cancer. First volunteering for other organizations and quickly founding her own non-profit, Erica became a young, and unlikely leader in Las Vegas philanthropy. Her organization "Circus Couture" has used avant-garde circus, fashion and art to raise over $1.2 million so far, funding the only clinic in Nevada treating kids with cancer regardless of insurance. She is also a known source of whimsy and magic to little cancer warriors at difficult times.
In 2012 Erica became one of the world's most famous circus performers when she starred in James Cameron and Andrew Adamson's 3D film "Cirque du Soleil: Worlds Away". Since then she's enjoyed a diverse career as an acrobat, stunt woman, acrobatic choreographer, aerial designer, and live entertainment director. Erica is grateful that her work has allowed her to travel extensively worldwide, continually broadening her horizons.
Erica is deeply honored to be chosen as a distinguished AAHS alumni and hopes that students who feel like outsiders will remember this: It's ok if you don't feel like you fit into the world you are assigned. Some of you are simply destined to build our own world…